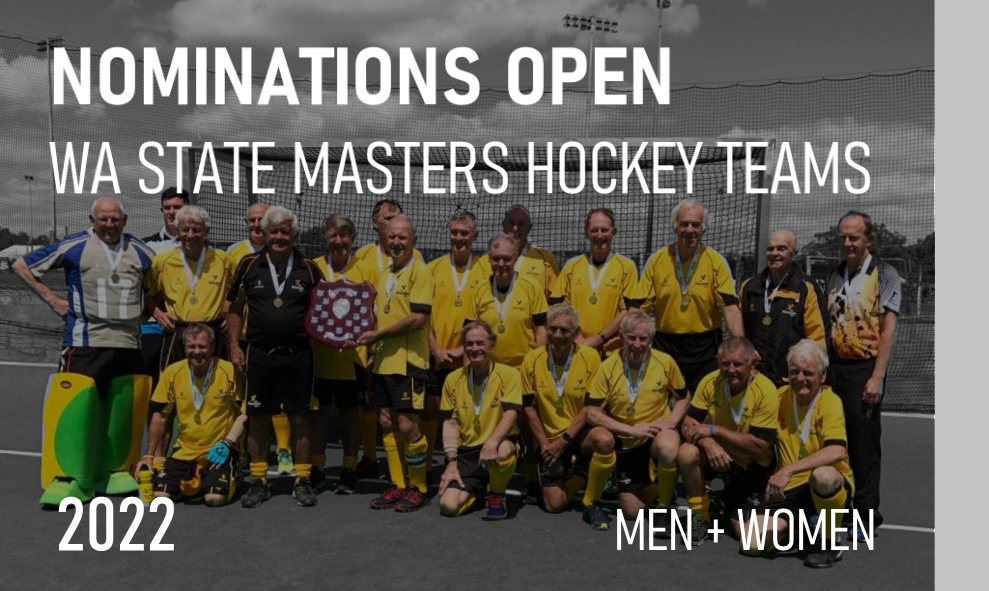 Hockey WA and the WA Masters Hockey Committee are pleased to announce that Nominations are open 
for players for 2022 Men's and Women's State Masters Teams.
The men will play from 24 September to 8 October 2022, at the Gold Coast Hockey Centre & Gold Coast Performance Centre, QLD.
The women start a little earlier on 21 September and finish on 1 October 2022, playing their games at the North Cairns Hockey Facility, QLD.
You must be registered and logged-in to this website to be able to nominate.
If you registered last year you will need to re-register again this year.  Sorry for the inconvenience.
This is the link (will only work if you are logged-in).
Alternatively, the online nomination form can be found under "State Teams" and "2022 Nomination Form"
on the menu on the right hand side. 
(Again will only appear if you are logged in)

Please read all the website information before completing a Nomination.
Nominations are for the following:
Men's Masters Hockey Championships:
Over 34s - O75s, Gold Coast, Queensland.  Sat  24 September to Sat 8 October 2022 
Women's Masters Hockey Championships:
Over 34s – 70s, Cairns, Queensland.  Wed 21 September to Sat 1 October 2022
A Nomination must be made on the Nomination Form on this website in the player's relevant age division (age as at 31 Dec 2022). 
There is a non-refundable fee of $50 to complete a Nomination.
Nominations State Masters Teams close at 5.00pm on the Friday before the relevant first trial.
Women's Team Selection Trials will be held from 8.30am on Sunday 22 May 2022 6:00am-8:00am at UWA Turf 1 & 2. 
The women's 2nd Trial will be on Sunday 29 May 2022 from 6:00am to 8:00am at UWA Turf 1 & 2.
Men's team Trials will be held on: TBA. 
Ages 34 to 60 planned for a Monday night in early July. 
Ages 65 to 75 on a Wednesday at PHS.
Peter Andrews
Secretary
WA Masters Hockey Committee
This email address is being protected from spambots. You need JavaScript enabled to view it.